Rooter Universal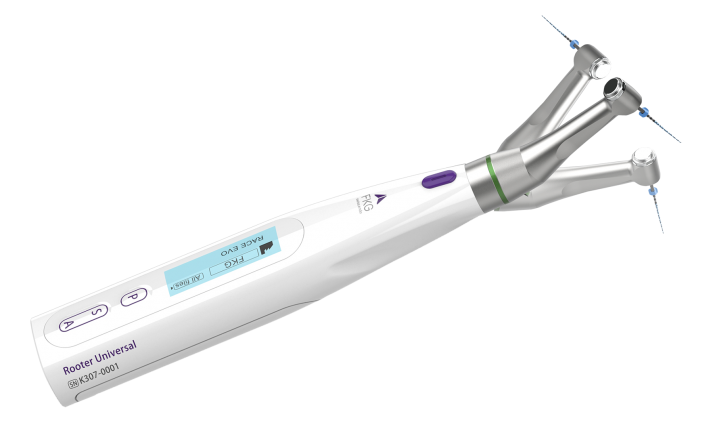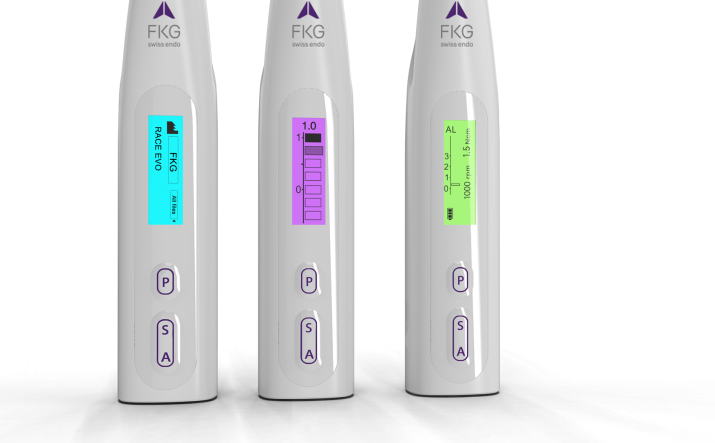 CORDLESS ENDO MOTOR with APEX LOCATOR
The Rooter® Universal is a cordless endodontic motor with apex locator. With its powerful functions and precise measurements, the clinician can easily cope with the root canal preparation problem, and make a perfect root canal treatment. The device has 3 working modes for maximum ease of use:
Single Endo motor mode
Endo motor with apex locator mode
Single apex locator mode
EASE and COMFORT of use in your hands
Cordless endo motor with apex locator integrated
Low weight and slimline design
Well-balanced device ergonomics
Perfect handling for left and right-handed users
Switchable display guarantees easy operation for both left and right-handed users
360° contra-angle rotation
Compact contra-angle head geometry
Inductive charging
LED light
Auto Reverse function
An adaptable device to gain efficiency
Preset programs for FKG files

RACE® EVO
R-Motion®
XP-endo®
Free Rotary & Reciprocation modes

4 free Rotary file systems memories
1 free Reciprocating file system memory
Easy-to-program torque and speed settings
Variable file speeds and torque values

Speed: 150 – 1'000 rpm
Torque: 0.6 – 3.5 Ncm
Reciprocating motion can be set to a variety of reciprocating angles and speeds to meet all current reciprocating motion requirements.
Documentation
Rooter Universal - Flyer EN

Rooter Universal - Flyer FR

Rooter Universal - Flyer DE

Rooter Universal - Flyer ES

Rooter Universal - Flyer PT

Rooter Universal - Flyer IT

Rooter Universal - User manual EN

Rooter Universal - Manuel d'utilisation FR

Rooter Universal - Bedienungsanleitung DE

Rooter Universal - Instrucciones de use ES

Rooter Universal - Manual de utilização PT

Rooter Universal - Manuale Utente IT

Contra angle - Operation manual EN

Contre-angle - Manuel d'utilisation FR

Winkelstück - Bedienungsanleitung DE

Contra-ángulo - Instrucciones de uso ES

Contra-ângulo - Manual de instruções PT

Contrangolo - Manuale operativo IT