Rooter X3000
HIGH SPEED, UP TO 3000 RPM
Cordless endo-motor. Precision and control at your fingertips.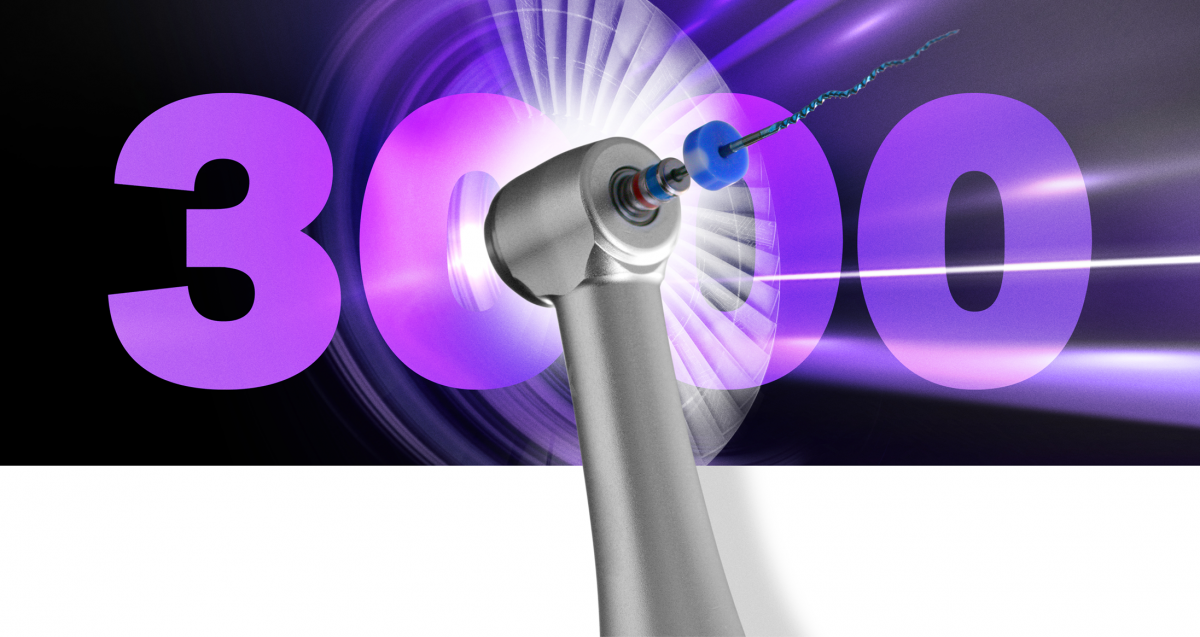 FKG PRESET PROGRAMS
Adaptability reflects its core, starting with the four FKG presets: XP-endo® Treatment, XP-endo®
Retreatment, RACE® EVO, and R-Motion®. This saves time for endodontists, who can rely on manufacturer's predefined recommendations for each file type.

FREEDOM OF SETTINGS, LEFT TO THE USER
The endo motor provides 10 user-programmable memories for all modes (EAL, CW, CCW, REC or ATR) making the Rooter® X3000 an excellently adaptable device to save time and gain efficiency.
Right-handed and left-handed adjustable display.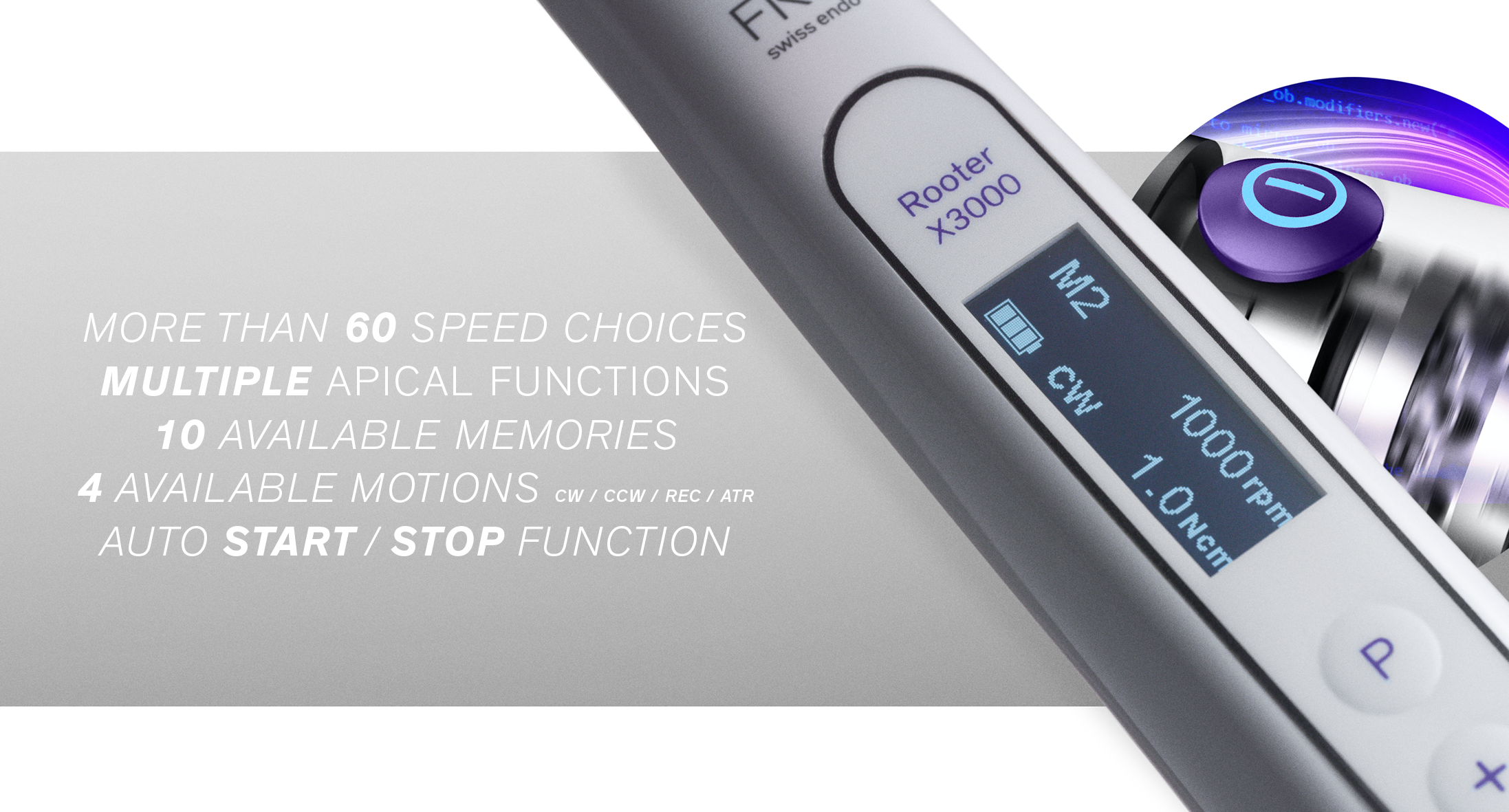 ADJUSTABLE, RECIPROCATING,
TWO AVAILABLE MODES: REC + ATR
EXTRA SLIM, CONTRA-ANGLE HEAD
A super mini head with a diameter of 8mm and a height of less than 10mm brings clear vision during the operation. The contra-angle is 360° rotatable, for lots of control.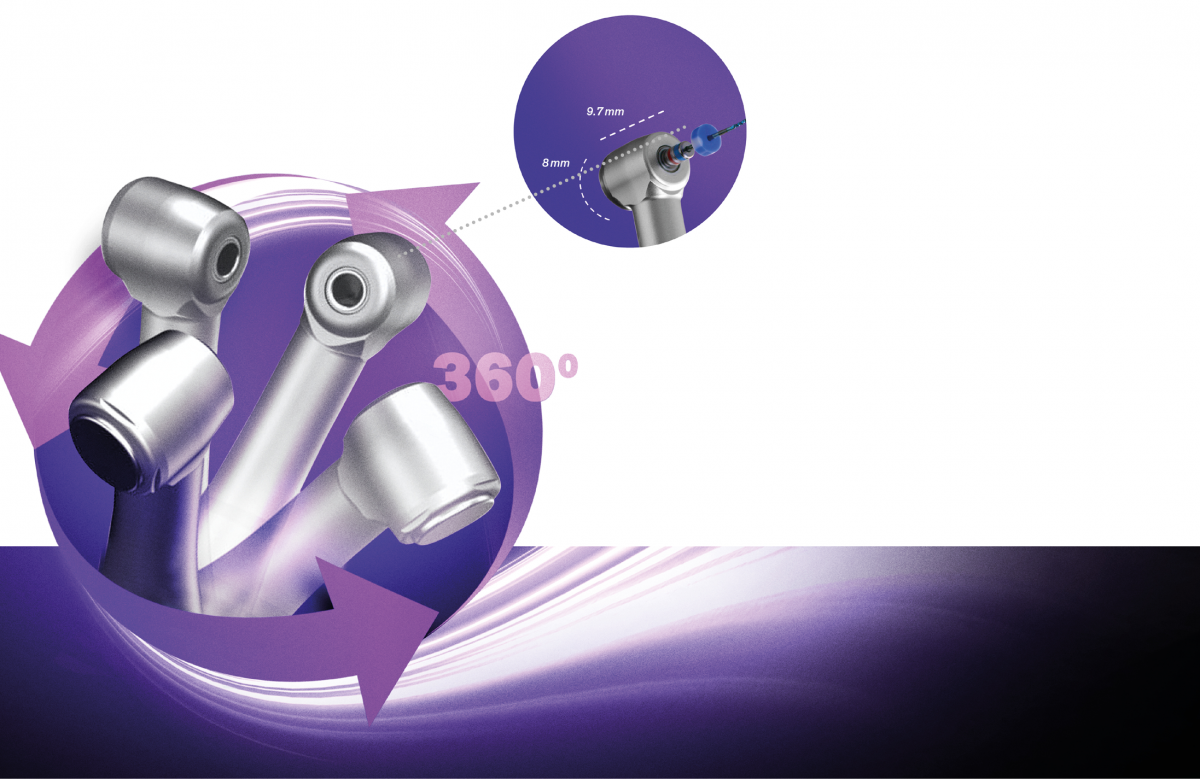 BUILT-IN APEX LOCATOR
Thanks to the built-in apex locator, you realize real-time display of file location in the canal.
The Rooter® X3000 automatically stops or reversely rotates as soon as the file reaches the apical stop to prevent perforation. Auto Start and Auto Stop functions enable motor to start while the file gets in the canal or to stop when it is out.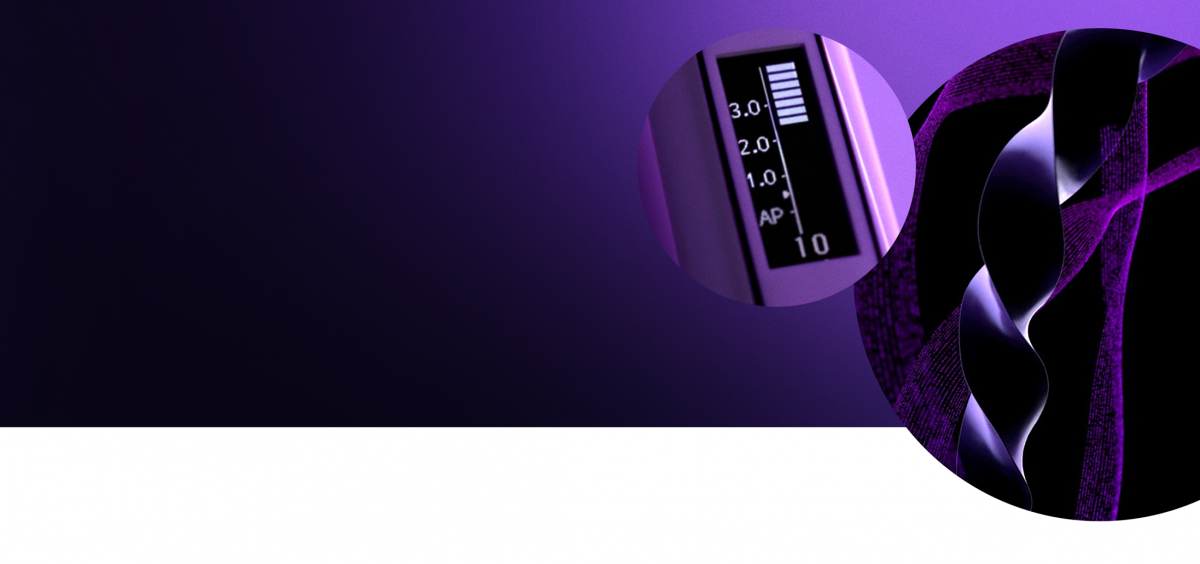 BRUSHLESS ENDO MOTOR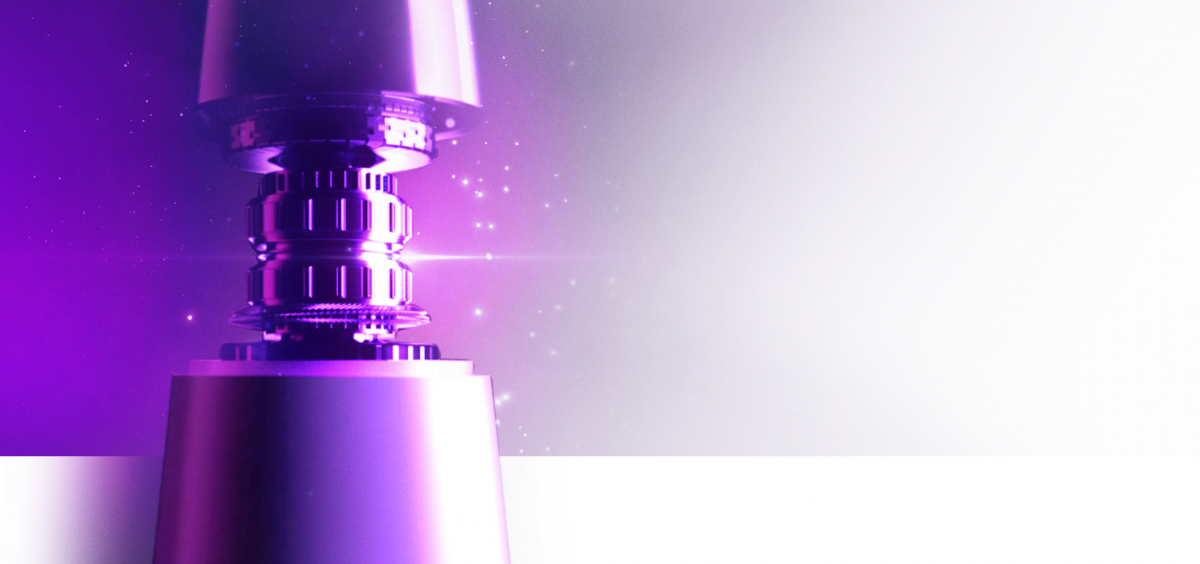 WIRELESS CHARGING
With the Rooter® X3000 and it's wireless charging capability you don't need to take care of your wire, let your moves getting smoother.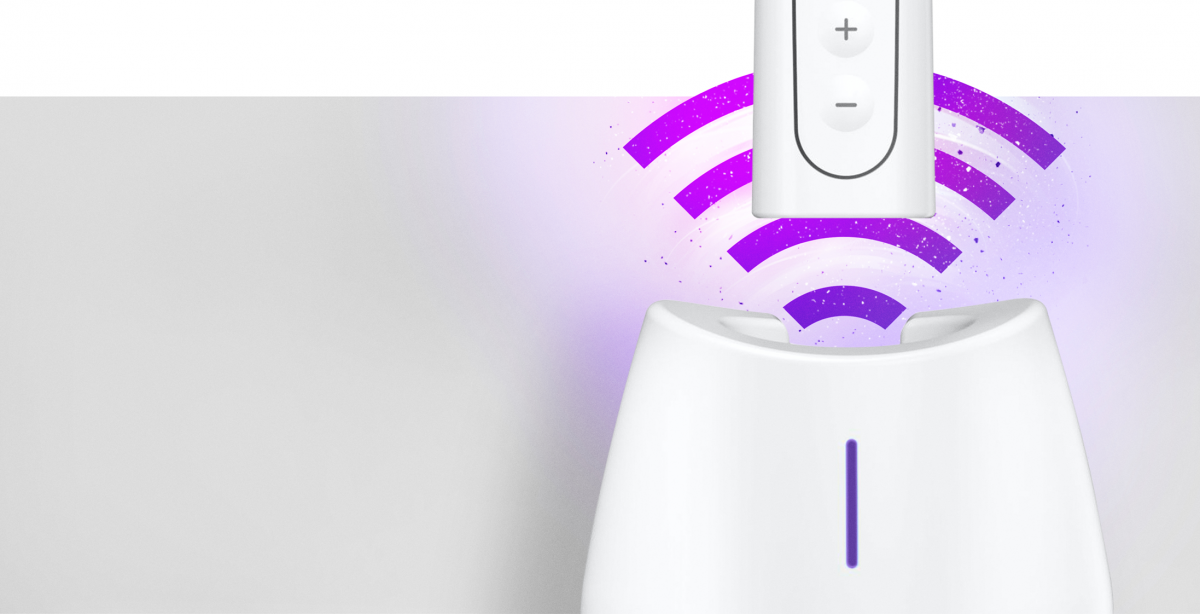 LONG LIFE BATTERY
The Rooter® X3000 has a powerful lithium battery, which extends its useful life.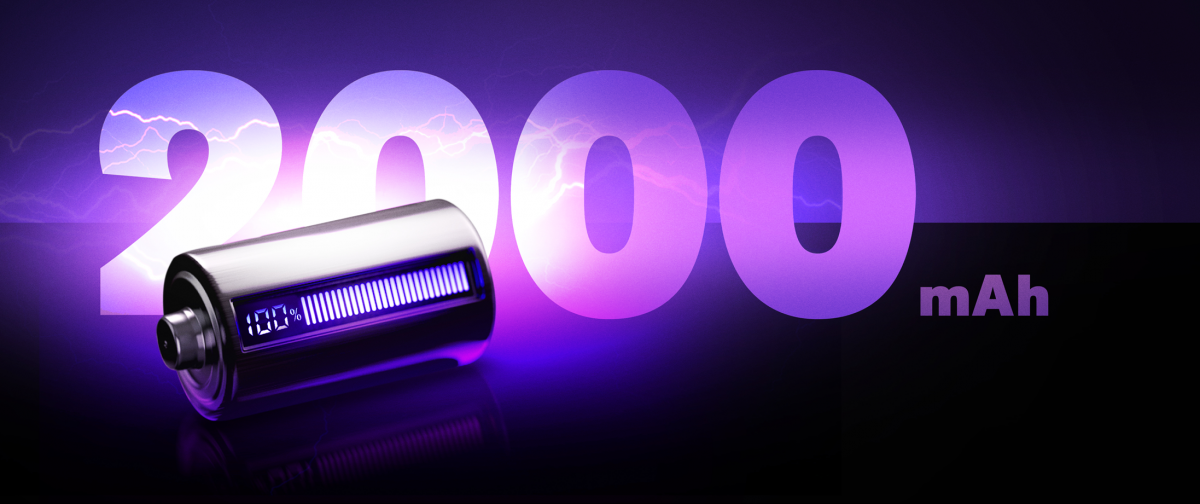 APICAL FUNCTIONS
4 Apical Actions are available :
SLOW DOWN: The motor slows down to a set final speed as the file tips approaches the apical reference point.
STOP: The motor stops automatically when the file reaches the reference point, and then restarts automatically when the file is pulled away from this one.
REVERSE: The motor automatically reverses the rotation direction when the file reaches the reference point. It goes automatically back to initial rotation direction when the file is pulled away from the reference point.
OFF: Apical Action is disabled.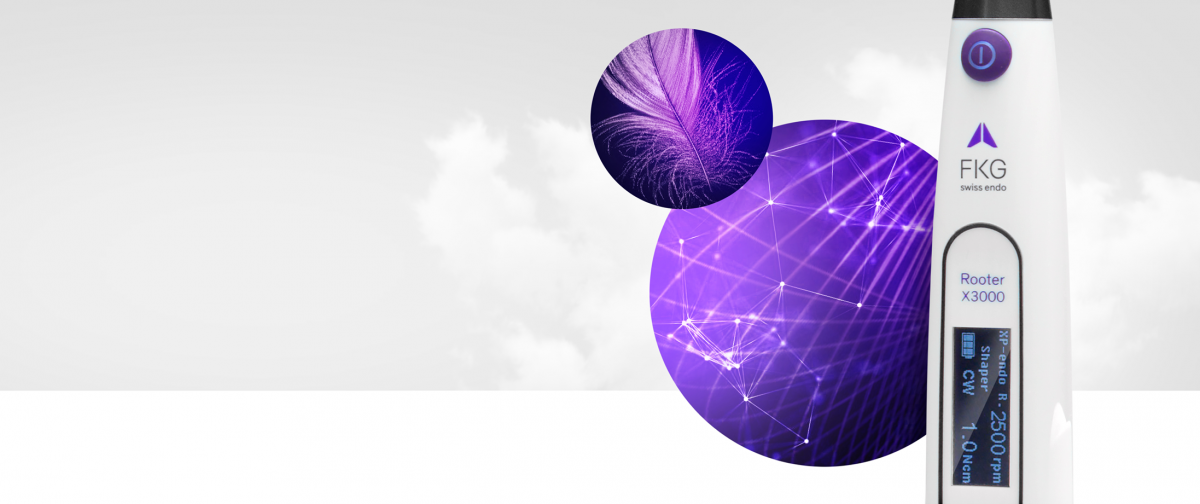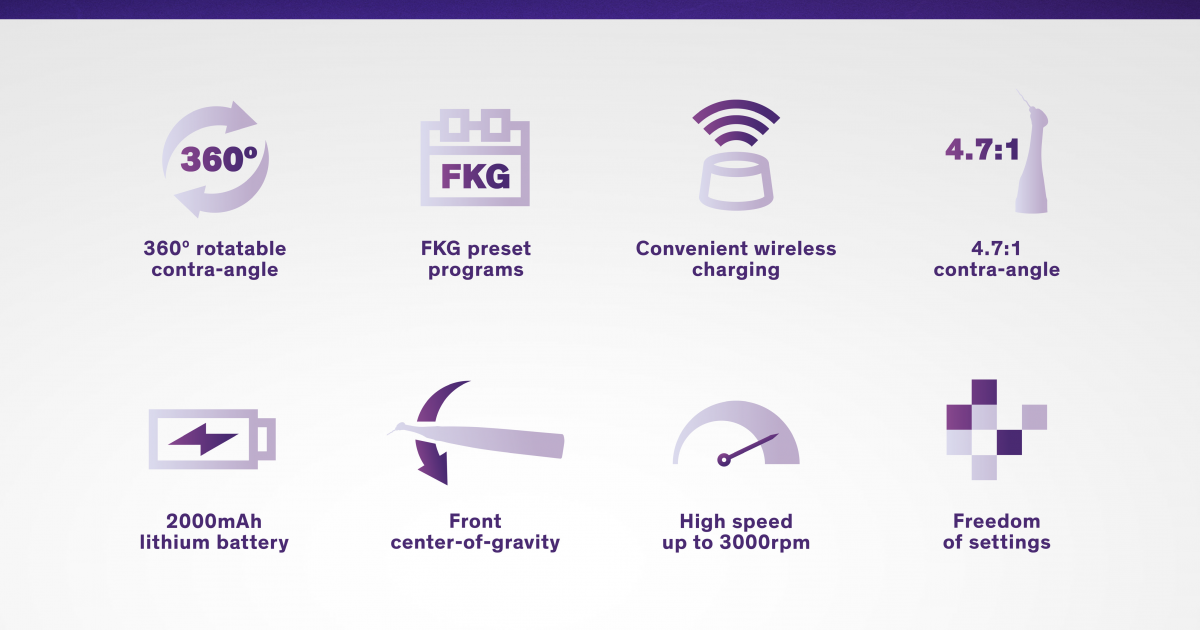 FAQ
Video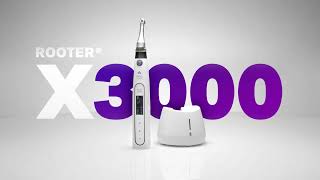 FKG Rooter X3000 Promotional Video
Documentation
Rooter X3000 - Press release EN

Rooter X3000 - Press release FR

Rooter X3000 - Press release DE

Rooter X3000 - Press release ES

Rooter X3000 - Press release PT

Rooter X3000 - Press release IT

BG - Rooter X3000_Ръководство за потребителя

CS - Rooter X3000_Uživatelská příručka

DA - Rooter X3000_Brugervejledning

DE - Rooter X3000 - Bedienungsanleitung

EL - Rooter X3000_Εγχειρίδιο χρήσης

EN - Rooter X3000 - User Manual

ES - Rooter X3000 - Instrucciones de uso

ET - Rooter X3000_Kasutusjuhend

FI - Rooter X3000_Käyttöohje

FR - Rooter X3000 - Manuel d'utilisation

HR - Rooter X3000 - Korisnički priručnik

HU - Rooter X3000_Felhasználói kézikönyv

IT - Rooter X3000 - Manuale Utente

LT - Rooter X3000_Vartotojo vadovas

LV - Rooter X3000_Lietotāja rokasgrāmata

NL - Rooter X3000_Gebruikershandleiding

PL - Rooter X3000_Podręcznik użytkownika

PT - Rooter X3000 - Manual de utilização

RO - Rooter X3000_Manual de utlizare

SK - Rooter X3000_Používateľská príručka

SL - Rooter X3000_Uporabniški priročnik

SV - Rooter X3000 - Bruksanvisning

Rooter X3000 - Brochure EN

Rooter X3000 - Brochure FR

Rooter X3000 - Brochure DE

Rooter X3000 - Brochure ES

Rooter X3000 - Brochure PT

Rooter X3000 - Brochure IT