XP-endo Rise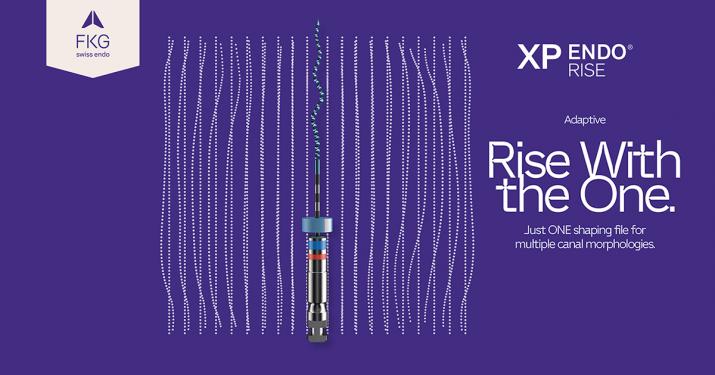 XP-endo® Rise is the next generation of our adaptive one-shaper line.
Simple and more predictable, XP-endo® Rise gives you safety and control.
Discover a new design created for shorter procedure times and agility.
Just ONE shaping file for multiple canal morphologies.
A totally unique system that offers predictability, an excellent ability to adapt to the canal and multiple use in primary treatment.
XP-endo® Rise superior resistance merged with the added advantage of shorter procedure times.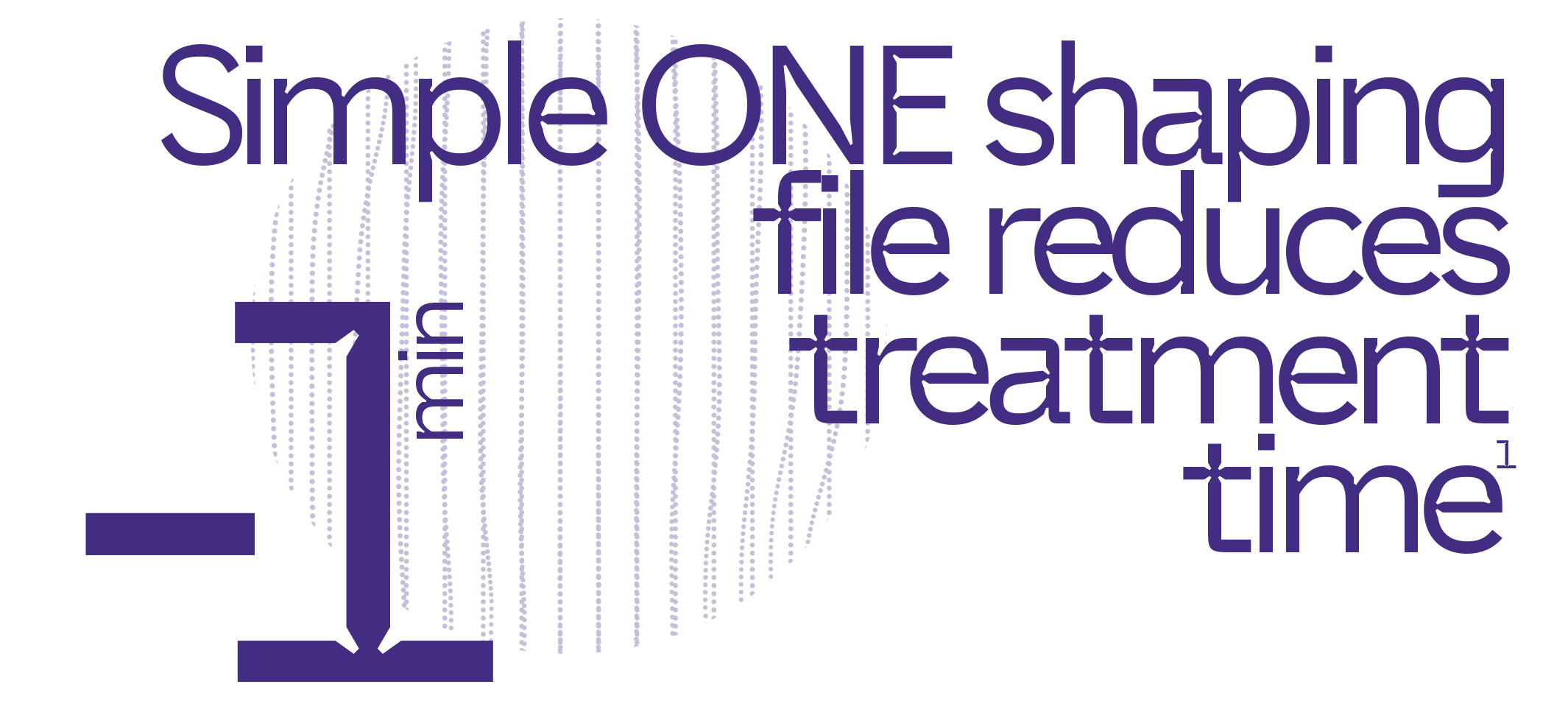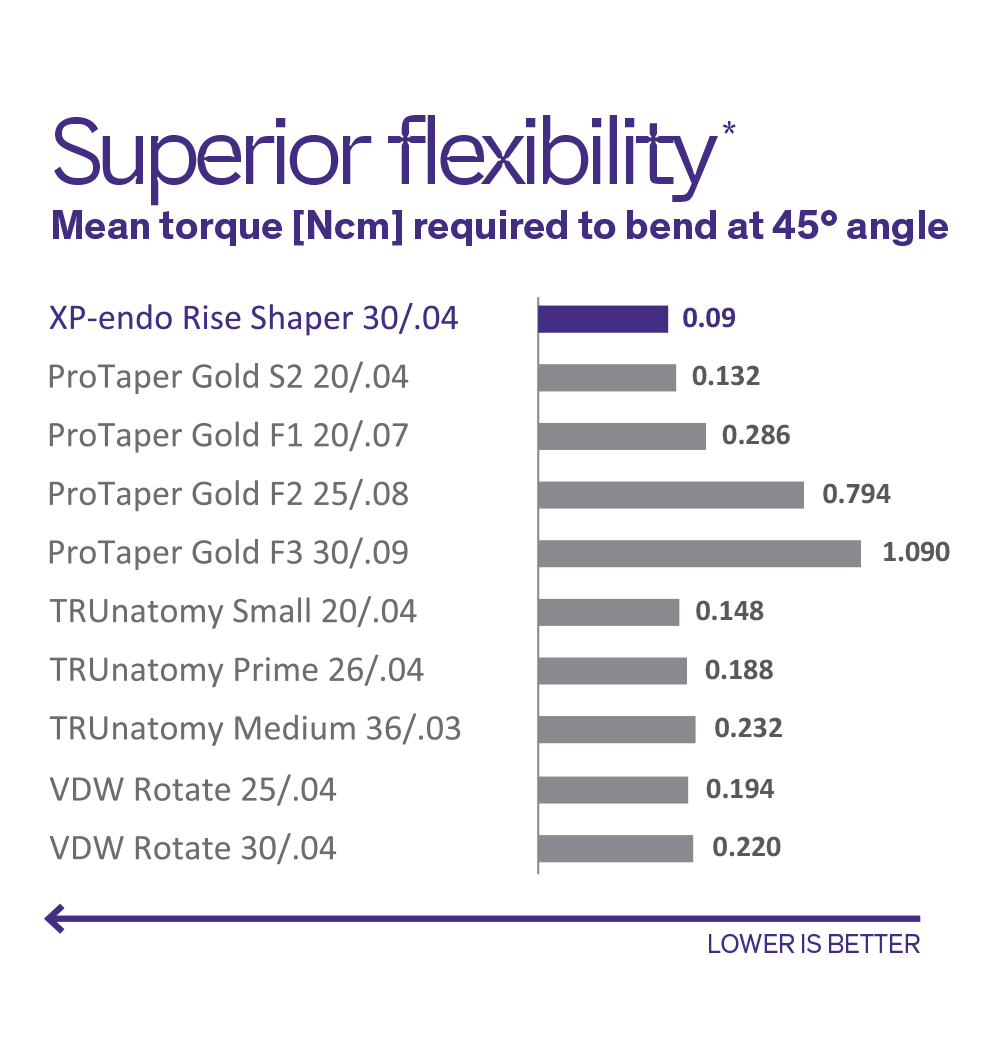 *Internal testing. Data on file.
1Azim AA, Piasecki L, da Silva Neto UX, Cruz ATG, Azim KA. XP Shaper, A Novel Adaptive Core Rotary Instrument: Micro-computed Tomographic Analysis of Its Shaping Abilities.J Endod. 2017;43(9):15321538. doi:10.1016/j.joen.2017.04.022
High bacteria reduction -
up to 99.5%1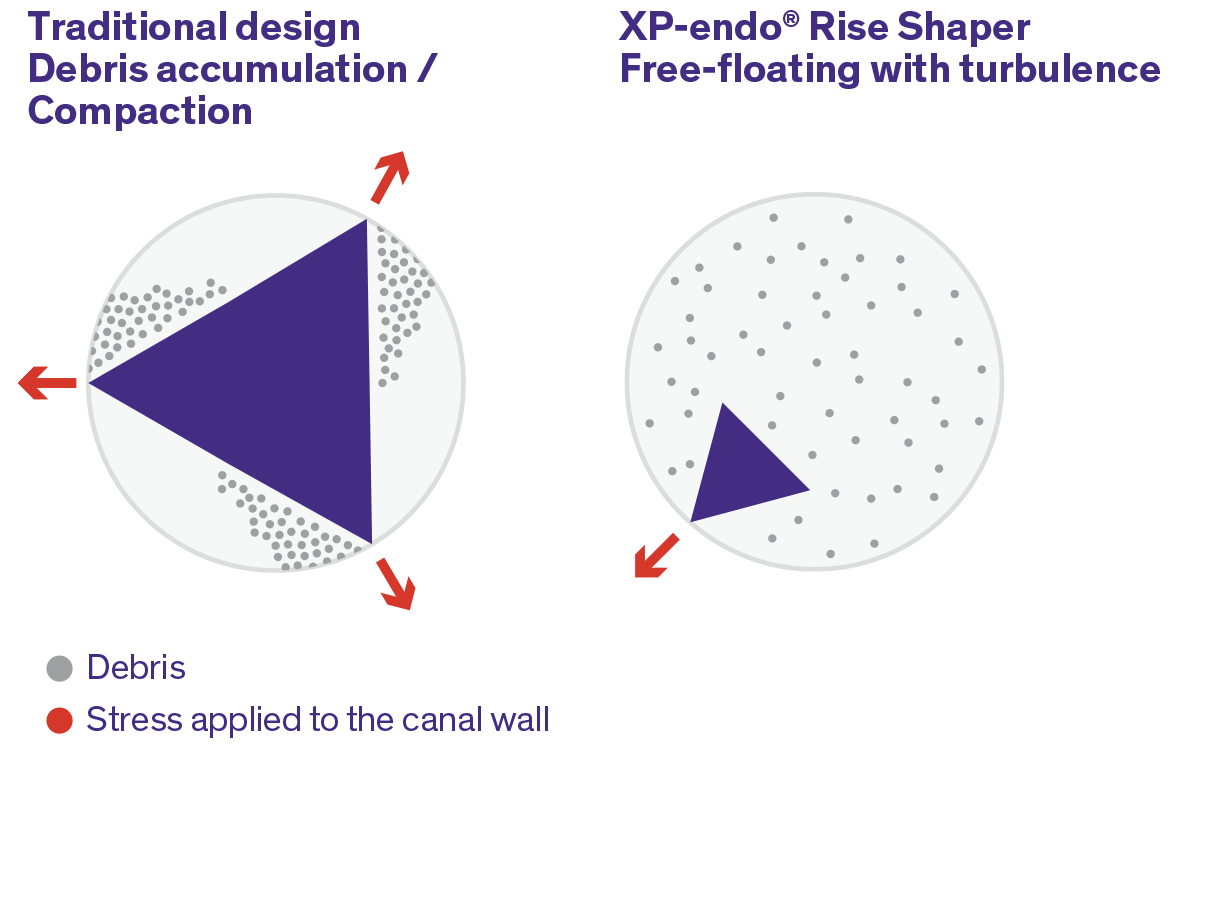 High debris removal
in C-shaped canals
(up to 98.9%)2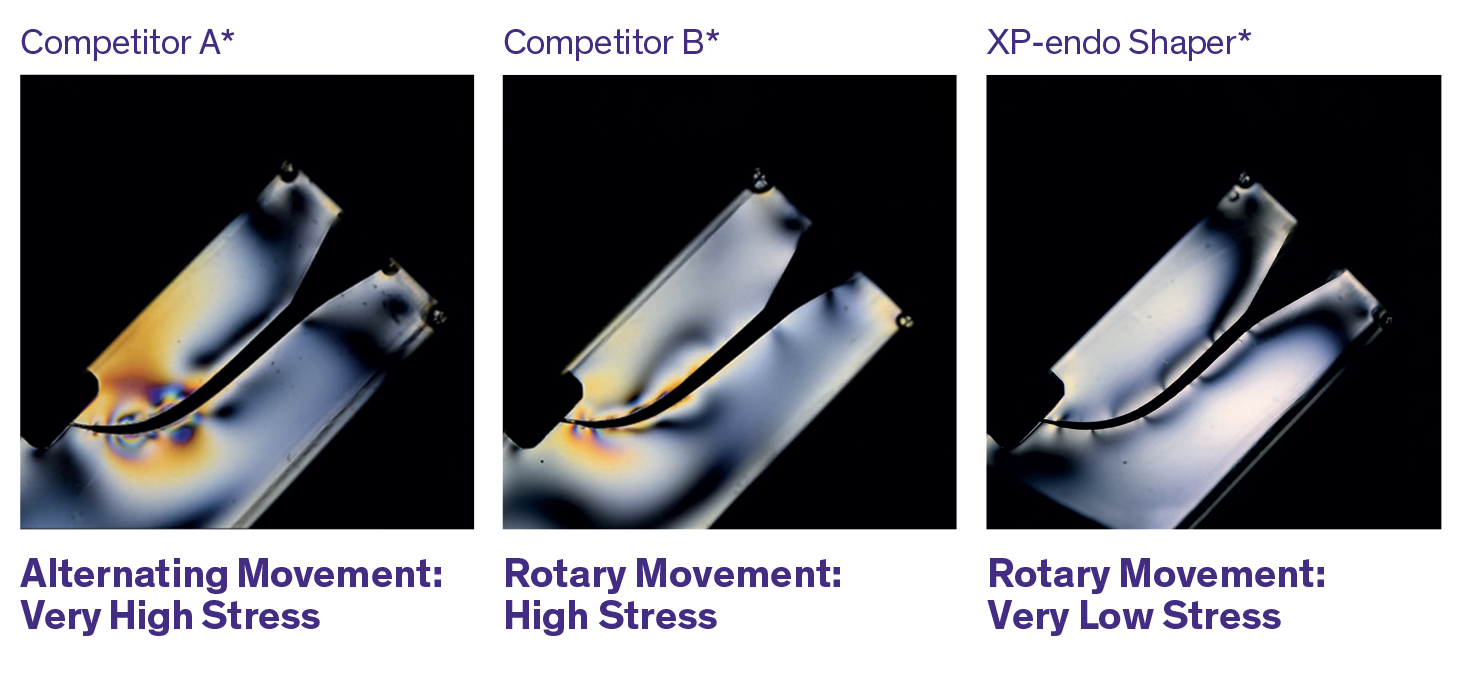 Preserves
root anatomy
1 Siddique R, Nivedhitha MS, Ranjan M, Jacob B, Solete P. Comparison of antibacterial effectiveness of three rotary file system with different geometry in infected root canals before and after instrumentation-a double-blinded randomized controlled clinical trial. BDJ Open. 2020;6:8. Published 2020 Jun 8. doi:10.1038/s41405 020 0035 7. http://creativecommons.org/licenses/by/4.0/. No changes made.
2Zhao Y, Fan W, Xu T, Tay FR, Gutmann JL, Fan B. Evaluation of several instrumentation techniques and irrigation methods on the percentage of untouched canal wall and accumulated dentine debris in C-shaped canals. Int Endod J. 2019;52(9):1354 1365. doi:10.1111/iej.13119
XP-endo® Rise Retreatment
Simplify your retreatment protocol
2x faster
XP-endo® Shaper vs. a
conventional competitor for
performing retreatment procedures2
2x more debris
removal
Finisher R vs. PUI3
2AlOmari T, Mustafa R, Al-Fodeh R, El-Farraj H, Khaled W, Jamleh A. Debris Extrusion Using Reciproc Blue and XP Endo Shaper Systems in Root Canal Retreatment.Int J Dent. 2021;2021:6697587. Published 2021 Mar 24. doi:10.1155/2021/6697587
3De-Deus G, Belladonna FG, Zuolo AS, et al. XP-endo Finisher R instrument optimizes 3 the removal of root filling remnants in oval-shaped canals.Int Endod J. 2019;52(6):899907. doi:10.1111/iej.13077
Product References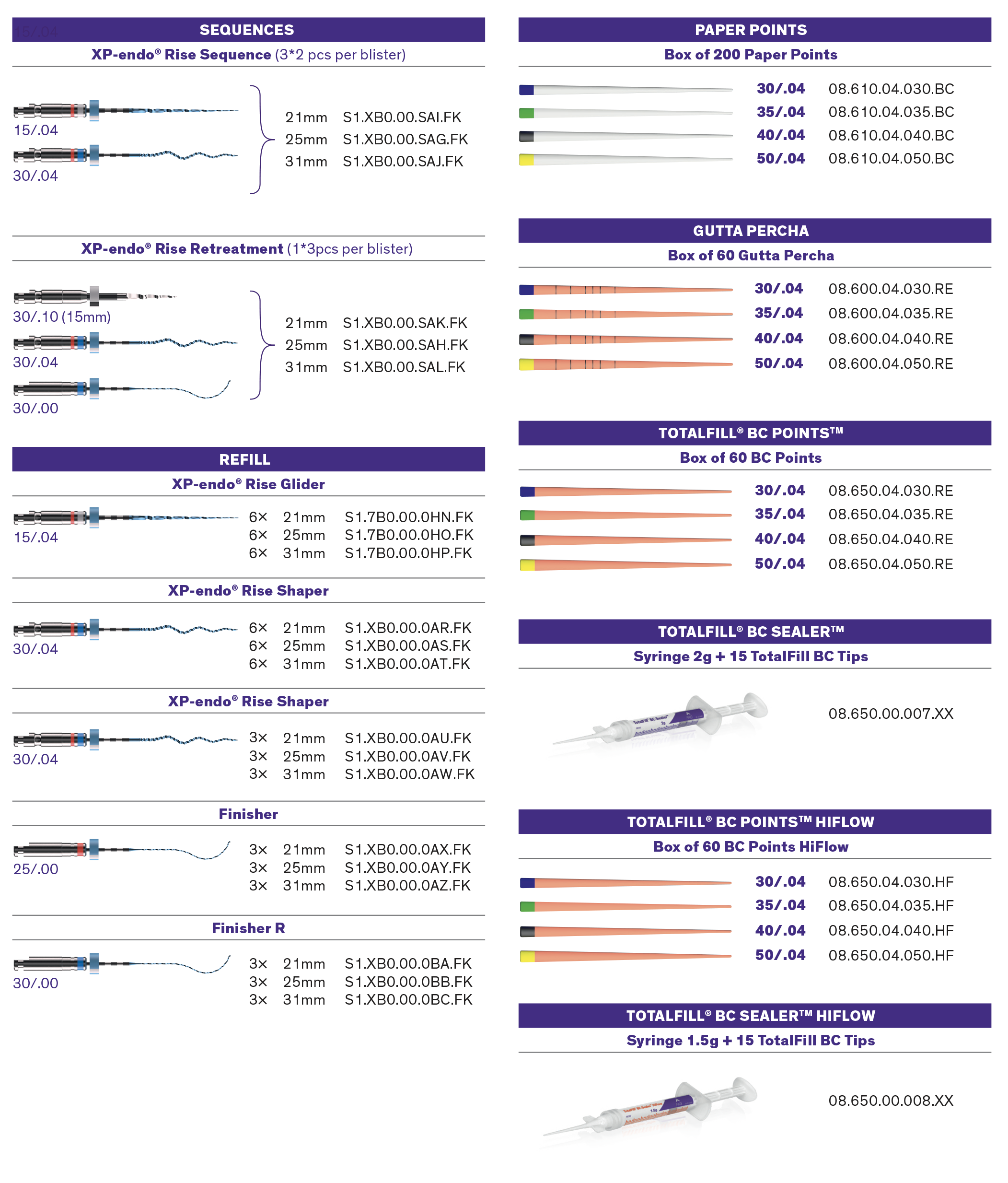 Documentation
XP-endo Rise - Press release EN

XP-endo Rise - Brochure EN

XP-endo Rise Sequence - Protocol card EN

XP-endo Rise Retreatment - Protocol card EN/FR/DE

XP-endo Rise Sequence - Instructions for use EN/FR/DE

XP-endo Rise Sequence - Instructions for use ES/IT/PT

XP-endo Rise Sequence - Instructions for use DA/FI/SV

XP-endo Rise Sequence - Instructions for use PL/EL/NL

XP-endo Rise Sequence - Instructions for use AR/RU/NO

XP-endo Rise Sequence - Instructions for use ZH/HE/JA

XP-endo Rise Glider - Instructions for use EN/FR/DE

XP-endo Rise Glider - Instructions for use ES/IT/PT

XP-endo Rise Glider - Instructions for use DA/FI/SV

XP-endo Rise Glider - Instructions for use PL/EL/NL

XP-endo Rise Glider - Instructions for use AR/RU/NO

XP-endo Rise Glider - Instructions for use ZH/HE/JA

XP-endo Rise Shaper - Instructions for use EN/FR/DE

XP-endo Rise Shaper - Instructions for use ES/IT/PT

XP-endo Rise Shaper - Instructions for use DA/FI/SV

XP-endo Rise Shaper - Instructions for use PL/EL/NL

XP-endo Rise Shaper - Instructions for use AR/RU/NO

XP-endo Rise Shaper - Instructions for use ZH/HE/JA

XP-endo Rise Retreatment - Instructions for use EN/FR/DE

XP-endo Rise Retreatment - Instructions for use ES/IT/PT

XP-endo Rise Retreatment - Instructions for use DA/FI/SV

XP-endo Rise Retreatment - Instructions for use PL/EL/NL

XP-endo Rise Retreatment - Instructions for use AR/RU/NO

XP-endo Rise Retreatment - Instructions for use ZH/HE/JA